We utilize the fixed-bed gas phase reaction technology we have developed over many long years in order to synthesize a variety of pyridines. In addition, this technology can be combined with fine organic syntheses using liquid-phase reaction technologies to meet a range of clients' needs for pyridines, pyrazines, piperazines, and other materials.
In recent years, we have deployed a range of technology for manufacture of materials at extreme low temperature, as well as dry and oxygen-free conditions, allowing for the support of the more complex processes of organic synthesis.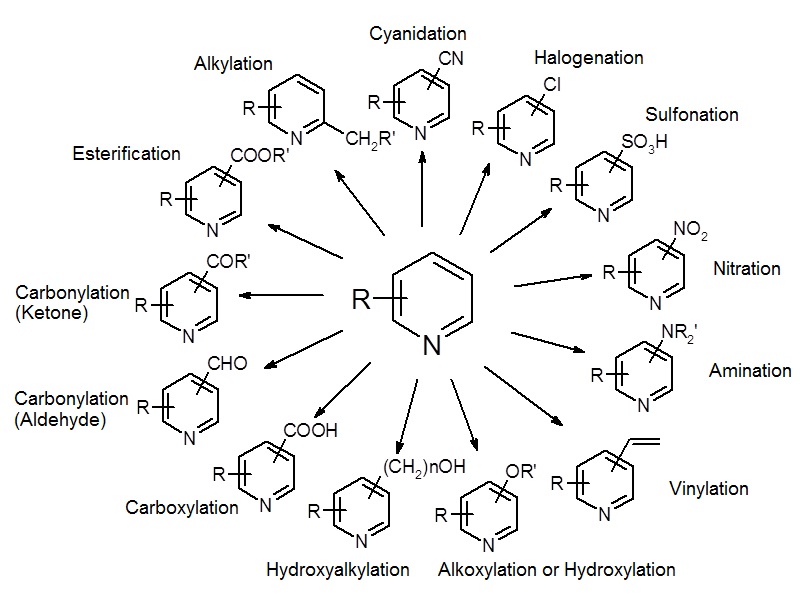 Liquid-phase multi-purpose manufacturing facilities
This page can be viewed by scrolling.
Equipment
Specifications
Liquid-phase reactor
Capacity
1-10m3
Material
GL, SUS, Hastelloy
Supported pressure
~0.98MPa(G)
Supported temperature
-60-180℃
Distillation equipment
Capacity
1.2-20m3
Material
SUS, SS
Theoretical plates
10-16 stages
Maximum usage temperature
300℃
Centrifugal separator
Capacity
32-40 inch
Material
SUS,Aflon
Dryer
Capacity
1-3m3
Material
Hastelloy, GL, SUS
Filtration equipment
Capacity
0.2-3.0m3
Material
GL, SUS
Misc.
Thin film distillation: SUS 3.1m2
Filtration drying: SUS 0.6m2, 1m2
For product inquiries and to download a catalog,
please click the button below.