By efficiently combining our expertise in gas-phase reactions, high pressure reactions, and liquid-phase reactions, we can synthesize compounds tailored to the client's needs.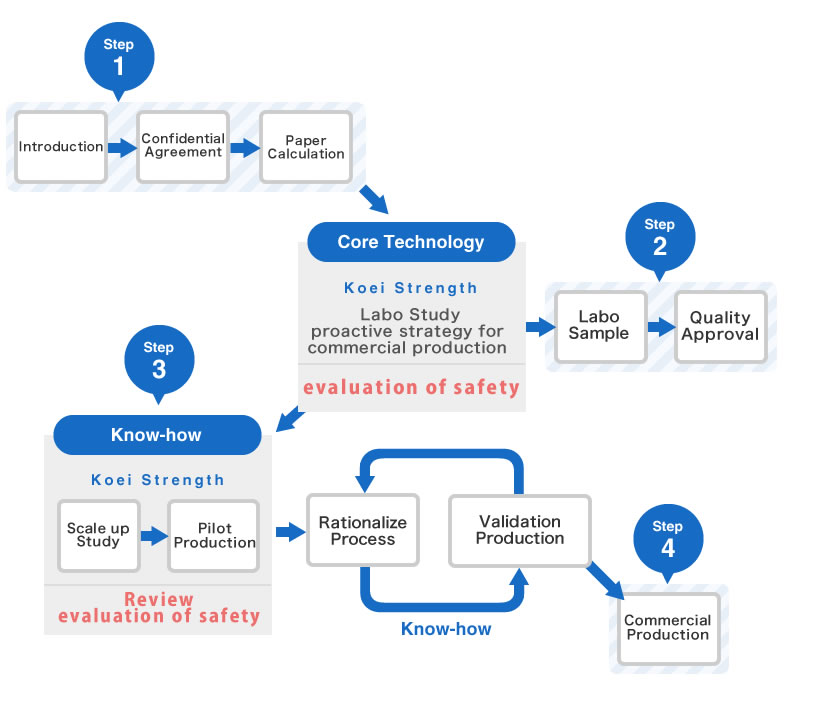 STEP1
Technology sharing and nondisclosure agreements
Presentation of Koei's "Business and R&D Strategy for Custom Synthesis"
Customer discloses KEY substances under the confidential agreement.
Koei proposes the rough price based on our paper calculation by industrially useful reaction route.
STEP2
Review of literature and QC review
Koei starts laboratory studies including the calculation of rough price based on our core technology.
Koei prepares laboratory sample and Customer approves it.
STEP3
Scaleability review through pilot production
Koei carries out scale up studies and pilot production including the evaluation of safety using our plenty of experience (scale up know-how).
Koei rationalizes the process and Customer approve the improved process.
Once we reach an agreement with the client on price, quality, and other parameters, we commence commercial production of the product.
For product inquiries and to download a catalog,
please click the button below.